It can be frustrating when you just can't round up enough players for a good board game night. Or perhaps you have a perfect It doesn't matter, 2-player game nights can be awesome, you reasoned. Nothing says intimacy and bonding like solving mysteries with your best friend or competing against your partner in good old fashioned card games for two people. Although there are plenty of 2 player card games on the market, good ones can be difficult to find. Given how expensive card games can be, you have to pick something that excites you every time you whip it out. Something that won't be left to gather dust at the back of your board games cupboard. In this article, we have rounded up ten of the best 2 player card games with unique themes, great gameplay, replayability, and portability that will rock your cozy little game night. Some of the games we picked can be played with additional players but are just as fun with 2 players. Whether you are looking for light-hearted 2 player card games for some laughs or a puzzling strategy game, there is something for everyone here!
Top 10 Card Games for Two People – Quick Comparison
Image

Player Count / Time / Age / Difficulty

 

Civilization Building – 7 Wonders Duel

Renowned 2 player rivalry that is easy to learn but is full with strategic possibilities. It works for all ages and skill levels, making it one of the most versatile 2 player card games we've played.

Best Deck Builder – Dominion (Second Edition)

The newly replaced Kingdom decks in Dominion 2nd edition incite more excitement and satisfaction over impressive card/ action combinations. The simple but deep strategic and highly variable gameplay makes it a worthy investment for anyone's strategy card games collection.

Top Artwork – Jaipur

If you are trying to get your partner into card games, try Jaipur. It is a well-designed 2-player card game that is deceptively simple with tons of strategy to unearth. Its fast-paced and ruthless gameplay acutely delivers a tense and competitive atmosphere as you race to become the Maharajah's personal trader.

Best Fantasy – Hero Realms

Hero Realms is a 2 player fantasy deck-building card game with a story of survival conveyed through its characters. As one of the four factions, you battle your opponent to death by filling your deck up with health buff, combat cards, and gold. The constant back and forth counters between players amps up the competitive atmosphere of the game. With simple and fast-paced gameplay, it is one of the best 30-minute card games for two players.

Most Fun – Smash Up: Science Fiction Double Feature

Smash Up!: Science Fiction Double Feature doesn't try to revamp the hugely-successful base game mechanics. Rather, it uses the same approach and introduces four new factions that are great fun to play with. Strap in for a fun game and comic book fighting noises as you battle each other for the most victory points with your Franken-deck.

Most Accessible – Century: Golem Edition

Century: Golem Edition is a fantastic engine-building card game set in the magical world of Caravania. Its simple gameplay serves as the foundation for creative and thoughtful strategies without overwhelming or underwhelming its players. It is perfect for new and old players alike of all ages who enjoy light strategy card games.

| | | | |
| --- | --- | --- | --- |
| 2 – 5 | 30-45 Min | 8+ | Very Easy |

Most Strategic – Arboretum

Arboretum is a simple but challenging hand-management game with an interesting theme. You have to balance tons of things with no room for mistakes. As you draw more cards from your rival's discard piles, the game grows more competitive and fun. Given how engaging and challenging it is at the same time, it is one of the best card games for 2 players we come across.

Quick Cooperative – Codenames Duet

Codenames: Duet is an entertaining, fast game condensed into a small box for great portability. It is fast-paced and engaging, which makes it a great card game for kids with short attention spans. Besides that, the cooperative aspect also encourages more positive interaction and laughter, which makes it one of the best 2-player card games for couples in our books.

| | | | |
| --- | --- | --- | --- |
| 2 – 4 | 15-30 Min | 12+ | Very Easy |

Most Thematic – Arkham Horror the Card Game

The challenge in Arkham Horror: The Card Game lies in its intricate storyline, fleshed-out characters, and dark intense theme. How you balance your abilities with your partner's is up to you, but know that decisions you are likely to carry over to future campaigns. The constant tension and fear of the unknown make it, without a doubt, one of the best hardcore 2 player card games.

| | | | |
| --- | --- | --- | --- |
| 1 – 2 | 60-120 Min | 14+ | Medium |

Quickest Card Game – 5-Minute Marvel

5-Minute Marvel is a cooperative card game that features iconic superheroes and villains of the comic universe. The 5-minute time limit creates a tense and engaging atmosphere that promotes player interaction. The artwork, unique hero decks, and simple gameplay are sure to leave Marvel fans squirming for more.
7 Wonders Duel is the 2-player version of the highly acclaimed and popular 7 Wonders games where you take on the role of an ancient architect to build a society from scratch.
Also, to become the greatest civilization ever, you have to beat your rival by completing the 7 Wonders before they do.
The game perfectly balances the 2-player gameplay by introducing a bunch of different mechanics that improve the gaming experience. 
For example, instead of passing cards to each other like the parent game, you draft your cards from a deck of face-up and face-down cards.
Because of this solitaire-like arrangement, you have to figure out the right cards to get at the right time. This adds an extra layer of strategy and variability to your game. In addition, you can trade your cards for better cards before your opponent does.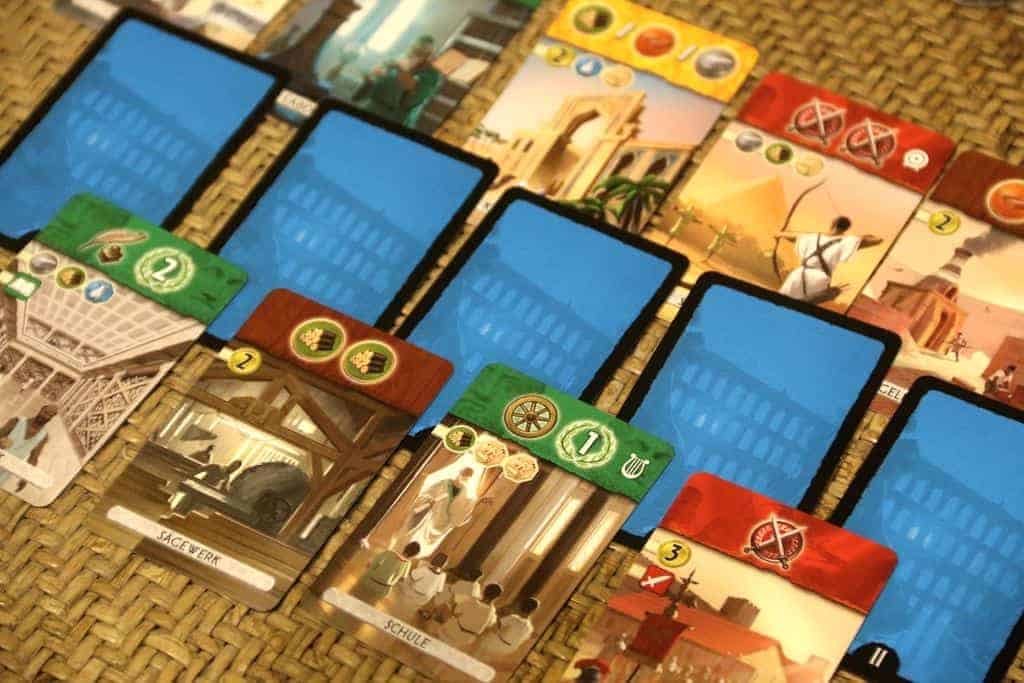 For example, instead of passing cards to each other like the parent game, you draft your cards from a deck of face-up and face-down cards.
PROS
Easy to teach and learn
Tense 2 player competitive gameplay
Streamlined card trading mechanics
High variability
CONS
Smaller and lower-quality cards
Long set-up time for each age
The first edition of Dominion pioneered the deck-building genre, so we were super excited for the 2nd edition of Dominion when it was announced in 2016.
You play as a Kingdom builder who is struggling to expand a small kingdom.
All you have at your disposal are some copper to buy upgrades for your deck and victory points to take home the win at the end.
Dominion 2nd edition does a great job tying together the medieval theme. It boasts improved artwork that is reminiscent of the old Dominion with new cards.
The game uses no-frills deck-building mechanics that are simple and streamlined. In every turn, you draft five cards from your deck, play an action, buy Kingdom cards, and discard the cards.
Don't mistake simplicity for shallowness though. Dominion 2nd edition is easily one of the most strategic deck-building card games out there. The key to building a great deck of cards is in the Kingdom decks, which bestow upon your powerful abilities like taking extra turns, drawing player cards, or attacking other players. You have to understand your cards well to maximize efficiency.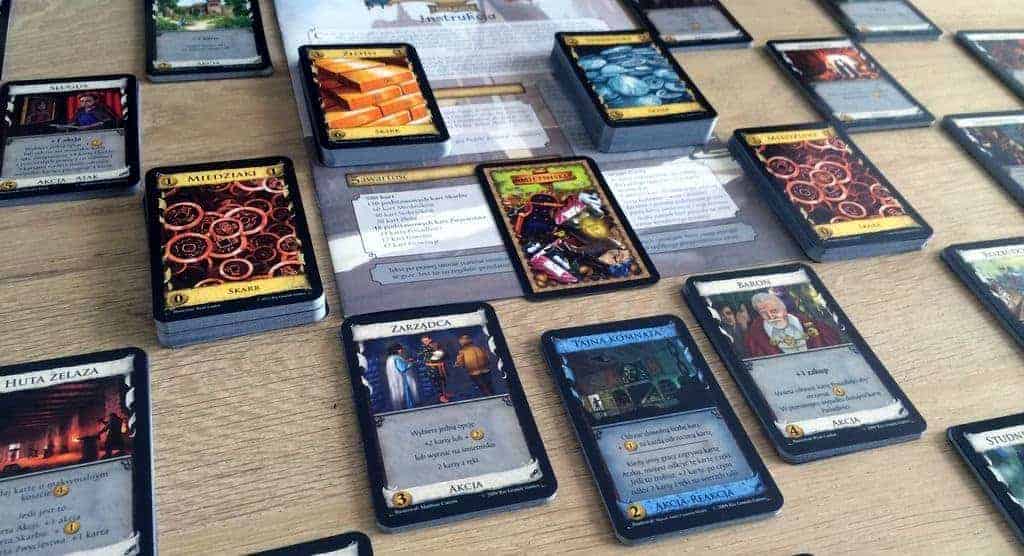 The silence that tends to come with Dominion sessions can be a double-edged sword though. Although you don't have to interact with anyone, it could lull you into a false sense of security. The game can speed up quite significantly once someone starts collecting victory points, so you might lose spectacularly if you are not paying attention.
PROS
High replayability
Can pick cards you want to play to create a custom gaming experience
Simple yet deeply strategic gameplay
One of the most successful card games ever made
CONS
Low player interaction
Theme feels abstract
Jaipur is a light-hearted 2-player card game between two competing feuding traders to becoming the great ruler's (the Maharajah) personal trader.
To prove your worth, you have to either get two "Seals of Excellence" from the Maharajah himself over three rounds or accumulate the most amount of rupees by the end of the game.
In the world of Jaipur, timing and right decisions move the game forward.
Will you hoard cards to get a set bonus for the most rupees? Claim all the camels into your herd to trade more in the future? 
There is surprisingly a lot to think about in this compact game, many of which might affect your future trades. 
You can use Jaipur to sharpen your shrewd business sense. For example, you can claim camels for free from the market, but they free up space for new cards which may be handy for your opponent's strategy. You need to maneuver not only your game but also keep a sharp eye out on what your competition is trying to do.
Despite all the plates you have to spin, you don't experience lots of downtime since Jaipur features a turn-taking mechanism between two players. You can easily play it within 20 minutes. The short game time also intensifies the competitiveness and creates a cutthroat atmosphere.
PROS
Gorgeous artwork and component quality
Simple and fast-paced
Deeply strategic and competitive atmosphere
Balanced and engaging gameplay
CONS
Luck-based card draws
Hero Realms is an adaptation of the critically-acclaimed card game Star Realms.
As a resident of the city of Thandar, you are caught in the chaos of divided factions.
Survive and you shall prevail as champion. Otherwise, your name will be tossed into oblivion, never to be heard of again.
The game employs a fantasy theme and a deck-building mechanic where you have to build a better deck of cards for better strength and actions than your opponent.
You and your foe start with identical decks of gold and combat cards. All four factions in Thandar are unique with defense stats and recurring abilities that fit their factions.
You have to learn to play to your strengths and set-up winning combos as well as to mask your weaknesses. As a result, it creates a more compelling narrative than most other fantasy 2 player deck-building games.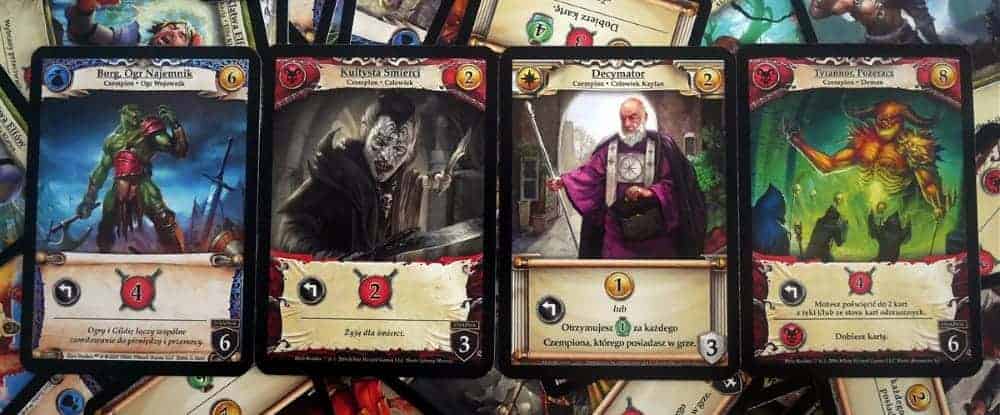 There is a market where you can buy health and combat cards to strengthen your troops. Sometimes the cards that appear in the Market Row might not be what you need since it is randomized, but it isn't unconquerable with enough perseverance and wit.
Hero Realms is perfect if you need a quick, fun card game as a filler between heavier games since it can be played within 20-30 minutes with very little downtime and high player interaction.
PROS
Fast-paced, casual gameplay
Compelling storytelling
Tons of player interaction
CONS
Can only buy random cards
Drawback #2
Smash Up!: Science Fiction Double Feature is a simple card game with a simple premise: you need to smash two decks together, form a formidable army, and break bases to get points.
You win when you rack up 15 victory points.
This edition features four Science Fiction factions: Time Travelers, Cyborg Apes, Super Spies, and Shapeshifters.
You choose two decks, shuffle them together, draft cards and you are ready to smash up and have an amazing experience with your gaming partner.
Asides from a gorgeously-illustrated design, every faction has something they specialize in. For example, the Shapeshifters' forte is to copy the movements of their enemies while the Superspies sabotage their adversaries by peeking and moving their cards around.
The idea of combining different factions for different effects is the highlight of Smash Up!: Science Fiction Double Feature. You can adopt different play styles with different combinations, which makes every game different. Some factions are not the best matches for each other, which forces you to compensate with creative strategies.
The game works perfectly well as a standalone card game, even though it was originally made as an expansion for the base game. If you want to play with more people, you can combine this game with other Smash Up! games. As long as every player gets two factions, you can host up to as many players as you want.
PROS
Easy-to-learn and simple gameplay
Clear information written on cards
High variability from deck combinations
CONS
Some factions have fewer complementing factions
Century: Golem Edition is a fast-paced and straightforward 2-player card game set in the enchanting world of Caravania.
You and your friend play as a caravan leader traveling the famed Golem road to deliver gems and crystals to the far ends of the world.
At first glance, the game is incredibly simple: you collect crystals, trade them, and deliver them to buy Victory Points that you require to win the game.
But that is part of the fun since you don't have to remember a bunch of convoluted rules to play.
Being so accessible makes the game perfect for new players of all ages, so it is your game if you want something to play with your younger siblings or children.
The strategy comes in once you get the hang of it. You are only allowed one action per turn, so you have to know what you want to do and plan ahead. Do you want to claim the point card now, or wait for the 1st and 2nd-row bonus? Is the merchant card worth buying? Should you take back the card to maximize your combos? There is a lot of variability in this game with loads of ways to win.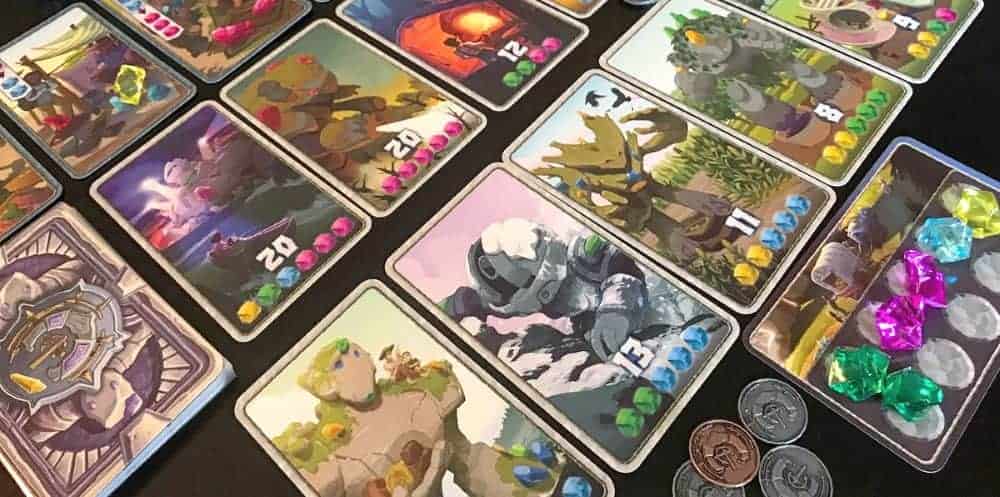 Century Road: Golem Edition does a wonderful job engaging its players. The one-card per turn restriction inevitably leaves you wanting more – do more, buy more, trade more. There is always something to do in every turn. With short downtime between turns, you will definitely keep your eyes glued on your competitor to make sure there is no funny business.
PROS
Gorgeous artwork
High-quality playing cards
Low downtime between turns
All-ages friendly
CONS
Some Merchant cards feel overpowered
If you are an avid tree hugger, you are going to love Arboretum, a competitive 2 player card game centered around building the most beautiful arboretum.
You can bring the game anywhere since it comes in a tiny, inconspicuous box that only holds a deck of cards and a small instruction sheet.
The 80 tree cards in the deck are made up of 10 different species of trees cataloged by 10 different colors.
Despite the small size, Arboretum is a highly strategic game with subtle twists and turns that will leave you monologing a lot.
Do you want to take advantage of the same-color bonuses when making a tree path? Or is building up a long path the easiest way to win. There are tons of different ways to score victory points, but also tons of ways to ruin you. 
For one, you can draw from two piles: the game's draw pile and your rival's discard pile, and vice versa. Because of this, you have to think before you discard anything. After all, you don't want to be the reason for your rival's success.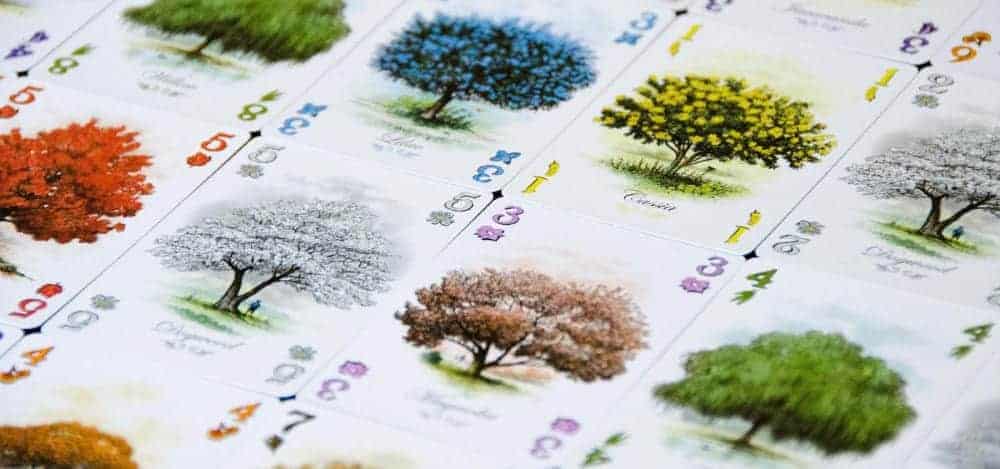 Apart from growing trees, Arboretum is also about earning the right to collect your victory points. At the end of the game, you have to compare the cards left in your hand with your rival. For example, to earn the right to score for Cassia type of trees, you should have a higher combined value for Cassia in your hand. So if your tactics involve using up all your Cassia cards, you are positively screwed.
So, you see, there are a lot of things on your plate in this little game despite its relaxed theme and pace. It is quite punishing as mistakes are permanent – you can't ever move a planted tree.
PROS
Relaxed pace despite punishing consequences
Interesting game mechanics and theme
Portable
Easy to learn, quick to play
CONS
No room for mistakes
Complicated scoring system
Codenames Duet is a cooperative 2-player spinoff card game of the classic Codenames game.
Instead of competing, you work together with your fellow handler to reveal the identities of 15 agents.
To start, you have to lay out a grid of 25 cards on the table, 15 of which are agents you have to uncover.
Beware though, 3 assassins lie among these agents who you don't want to uncover. If you do, however, you automatically lose the game.
To make matters worse, every round is timed, so you will lose turns if you dawdle.
It is a fun strategic word game that will entertain bibliophiles to no end. You have to give your partner a clue about an agent for them to guess. The key here is communication and engaging your partner since there could be clues that would work for multiple cards on the table.
With 400 word cards in the box, you are assured endless replayability. You can also do the mission maps and challenges – special card arrangements that impose more restrictions – if you want to ramp up the difficulty. Codenames: Duet is great for kids too as you can teach your children some vocabulary through this fun and engaging game.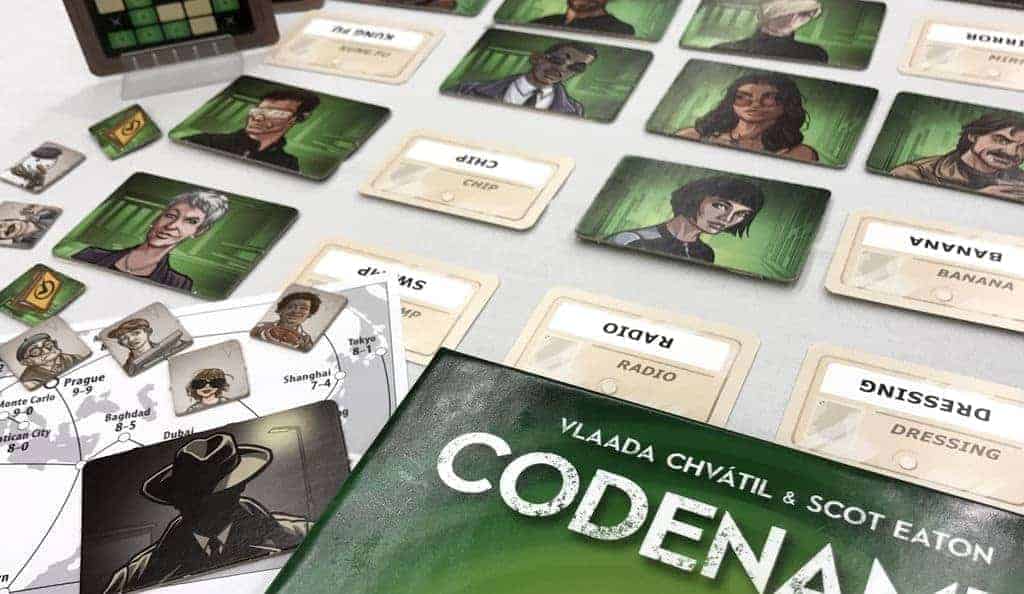 Besides that, we also love the team collaboration aspect of the card game since it encourages players to work together instead of working against each other. It fosters a lot of positive interaction and talking, which is why we think it is one of the best cooperative games for date nights or couples.
PROS
Great for couples
Replayability
Highly interactive
Mission maps to boost the difficulty
CONS
Not for competitive players
The sleepy and unsettling town of Arkham has been plagued with unexplained events. You and your partner were tasked to solve its chilling mysteries.
Depending on the scenario you choose, you have to search for clues, solve mysteries, and fight terrifying monsters with your trusty old' chap.
Arkham Horror: The Card Game is a brilliantly executed horror co-op card game for two players only.
It is campaign driven, consisting of scenarios which can be played in a single sitting.
If both you and your partner died, the mystery remains unsolved and you lose the game. 
The well-orchestrated feeling of horror and fear is definitely the highlight of the game as you never know what is lurking behind every corner. The feeling of uncertainty is further intensified by the investigation phase, which tests your intellect to determine if your investigation succeeds or not.
Every character in Arkham Horrors has a unique set of abilities. Some are natural sleuths, while others are ferocious fighters. Playing to your character's strengths and key skills gives you a better chance of success in solving puzzles and fighting monsters. You and your partner have to find ways to complement each other's strengths and weaknesses well, no matter how mismatched your characters are.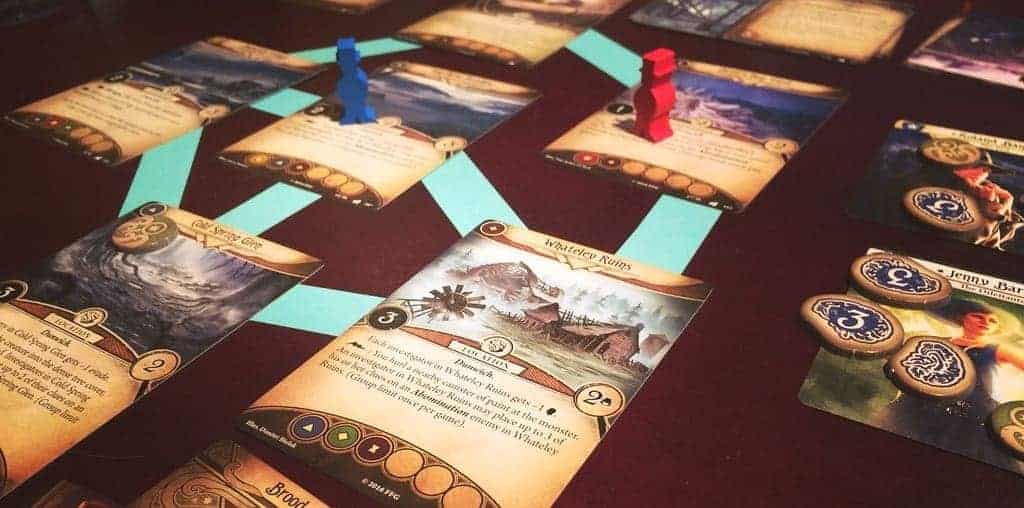 Oh, did we mention that every decision you take might affect future campaigns? Arkham Horror's storyline unfolds the more you play it. One misstep, and you might doom your future self. Every decision you make is important, so you better not decide hastily.
PROS
Great hand management mechanism
Well-executed horror theme and story
Unmatched 2 player horror cooperative experience
High replayability
CONS
May be too luck-based for some
Evil never rests in the chaotic Marvel universe and neither should you.
In this Marvel re-themed version of 5-Minute Dungeon, you play as a Marvel superhero with your friend to fight one of the six powerful supervillain bosses in the well-known Marvel universe.
Each player has to pick a superhero to fight a supervillain of your choice.
With five minutes at your disposal, you need to cooperate like never before to win, or else chaos will reign supreme!
The game feels incredibly Marvel despite having less popular heroes like Squirrel Girl and Spider-Gwen. The card ooze and the classic Marvel comic book art style is also spot on.
Don't worry if you don't know much about Marvel though. The creators showcased their knowledge of Marvel lore through the unique hero decks, so play enough of 5-Minute Marvel and you will learn plenty of things in no time, especially if you play with hardcore Marvel fans.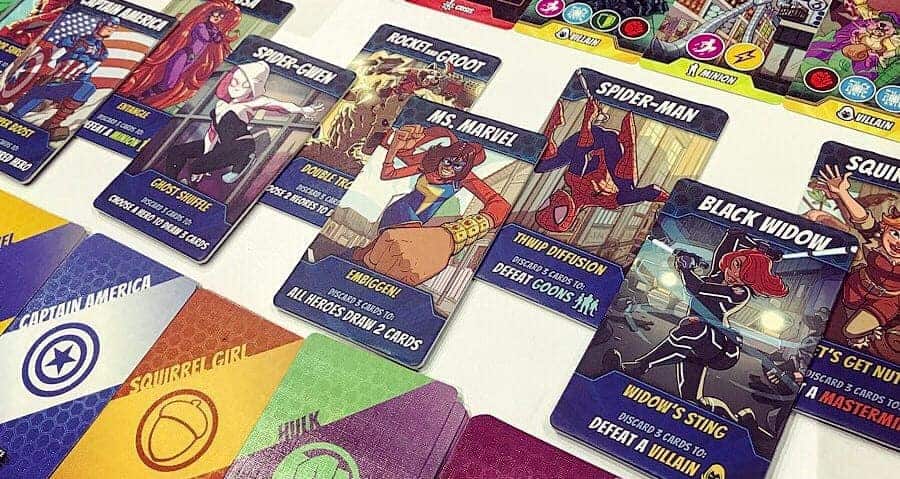 Before you face any bosses, you need to break down doors and solve crises. This creates an immersive comic book environment that will keep you on the edge of your seat. Thankfully, you can discard the one-off crisis cards after you overcome them. But remember, time's a-ticking.
PROS
Greatly accessible
Well executed Marvel theme
Great artwork with loads of Easter eggs
Quick cooperative 2 player experience
CONS
Repetitive supervillains
Conclusion
Although preference and card games compatibility vary from person to person, there are plenty of great 2 player card games in the market that would be good additions to your card games collection in our list.
For starters, Dominion 2nd edition will forever be the OG of deck-building in our hearts, so pick that if you like classic deck-building games. For a fantasy twist, try Hero Realms! Not only does it have a compelling story, but it can also be played within 30 minutes.
Speaking of quick games, nothing beats 5-Minute Marvel. You can choose to carry on with the campaign or stop after defeating a villain in 5 minutes. If you are looking for something more competitive, Jaipur will bring out the ruthless businessman in you with strategic but fast-paced gameplay.
If you are into interesting themes, Arkham Horror: The Card Game will definitely appeal to you although it is better suited for hardcore players who love horror and playing detective. Arboretum, on the other hand, has a much more relaxed pace but an equally interesting theme.