With the festive season coming up, now is a great time to get your hands on some holiday tabletop games. So, if you are on a hunt for the best Christmas board games, we are glad you've found us!
With so many variants, however, finding the right one for you, your family, and your friends can be a challenge. Have you found yourself scouring the web looking for board games to try this holiday season but you just can't make a choice? Yes, we've been there too – most games are old and the newer alternatives are tricky to find.
Your default board game arsenal might have been a Monopoly, Charades, Scrabble, or Trivial Pursuit, but let us challenge you a little bit and offer you, what we believe are better alternatives.
In addition, the below list contains both – Christmas-themed board games as well as alternatives that simply fit the great festive feel.
Whether you are with your family or friends this holiday season, we are going to share with you our ten of the best Xmas games. There are some classic family Christmas games on the list, but most are fresh and, lesser-known games that are sure to make your holiday time so much more fun. Let's dive in!
Top 10 Christmas Board Games – Quick Comparison
Image

Player Count / Time / Age / Difficulty

Top 10 Christmas Board Games

Best Cooperative – Ticket to Ride: Nordic Countries

Best For a Small Group – Ticket to Ride: Nordic Countries

Construct train tracks, connect city pairs and travel to the great northern cities in winter. Beat your opponents by being the first to complete rail tracks or outsmarting them by blocking their progress!

Best Light Strategy – Santa's Workshop

Best Christmas Spirit – Santa's Workshop

The most Christmas themed board game in our review where players lead a group of elves to make gifts and tend to the reindeer. The fine balance between gifts quantity and quality may get you the win!

| | | | |
| --- | --- | --- | --- |
| 2 – 5 | 45-60 Min | 8+ | Medium |

Best Family Fun – Timeline 3: Historical Events

Instead of Trivial Pursuit – Timeline 3: Historical Events

With 110 historical-related cards, Timeline is sure to add some competitive challenge to your holiday season. Can you put all those events correctly on the timeline? Both educational and lots of fun!

Best For All Ages – Concept

Instead of Charades – Concept

A perfect alternative to Charades where the players split into 2 teams to guess words or phrases using conceptual images and icons from the board. Pick one of the 3 difficulty levels to suit your group and enjoy the best words guessing fun!

| | | | |
| --- | --- | --- | --- |
| 4 – 12 | 40 Min | 10+ | Very Easy |

Best Zombie Trashing – Wordsy

Instead of Scrabble – Wordsy

A crazy game of tension, pace, and laughter where players need to write words using the letters they have. What's unique is that you don't need to have all the letters to write the words!

| | | | |
| --- | --- | --- | --- |
| 1 – 6 | 20 Min | 8+ | Very Easy |

Best Horror – Codenames

Instead of Taboo – Codenames

A multi-award winner game where two teams rival each other to uncover the opponents' secret identities using code names. Family or Christmas gatherings – this game is sure to be the highlight.

| | | | |
| --- | --- | --- | --- |
| 2 – 8 | 15 Min | 10+ | Very Easy |

Best Quick 4 Player Game – Snow Tails

Sledge Racing – Snow Tails

Up to five brave sledders race each other in a test of skill and endurance. Navigate your Huskies through the track to get to that finish line first and score yourself a victory!

Best Sci-Fi – Home Alone

Christmas Movie Classic – Home Alone Game

Based on the Christmas movie cult classic that delivers a great thematic feel. Take on the roles of the notorious Wet Bandits to steal the goods or Kevin and stop the burglars from looting the house.

| | | | |
| --- | --- | --- | --- |
| 2 – 4 | 15-20 Min | 8+ | Very Easy |

Best Strategic Play – Christmas Lights: A Card Game

Christmas Tree Decorating – Christmas Lights

It is that time to decorate your Christmas tree. Untangle the lights, replace broken bulbs, and trade with other players to create multi-colored sets of lights the fastest to win the game.

| | | | |
| --- | --- | --- | --- |
| 2 – 6 | 10-30 Min | 5+ | Very Easy |

Best Wargame – 12 Days

Christmas Carols – 12 Days

The game takes the famous "Twelve Days of Christmas" carol and twists it into a quick-playing card game. Use gifts to win one day of 12 at a time and earn points!

| | | | |
| --- | --- | --- | --- |
| 3 – 5 | 15 Min | 6+ | Very Easy |
The Ticket to Ride board game series has been hugely popular for quite some time, with the Nordic Countries board game releasing originally only for Denmark, Norway, Sweden, and Finland but open to a wider market in 2008.
The objective of the game is to link cities on the map/board together. Players must race to link cities.
At the beginning of the game, players take four train cards that are used to construct the tracks. They are also given three destination cards that show train routes the players must connect e.g. Helsinki – Oslo to gain extra points.
Players keep two of these destination cards hidden and discard any that they don't want to the bottom of the deck.
Each round players have three options to choose from. You can either claim a route on the board (to gain points), draw two railway or three destination cards and keep one.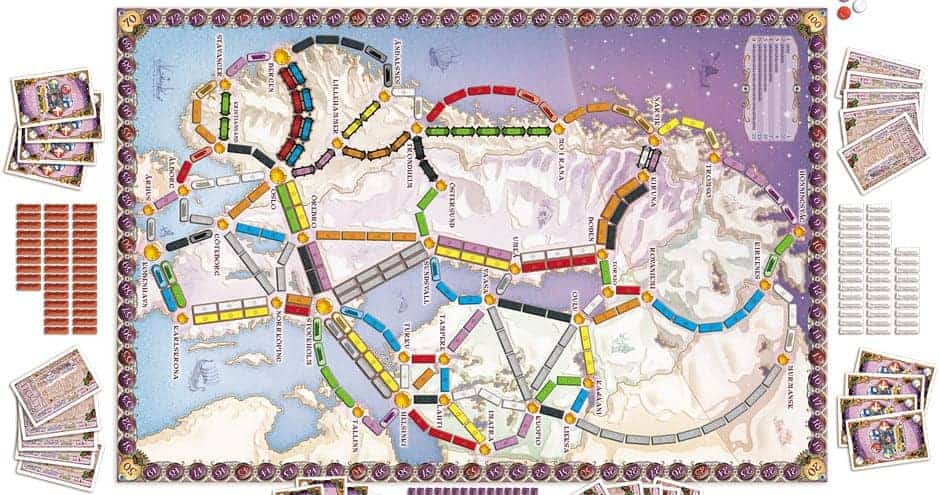 The game ends when a player has two or less of the colored train pieces left. Points are then counted against the number of destination tickets completed, alongside progress. The player with the most points wins the game.
If you are having a quiet Christmas day with three people or less, this game could be an excellent option to consider. 
Ticket to Ride: Nordic Countries is a simple game with light elements of competition and challenge, and simple tactics and wits. If you're planning to have a couple of friends over, it's worth picking this all-time classic, you'll be having a lot of fun.
PROS
Simple rules
Highly replayable
Each game tends to be different
Works well for all ages and skill levels
CONS

For 2 or 3 players only
Santa's Workshop is a truly Christmas themed board game that delivers a great festive season atmosphere.
Control Santa's elves in this workshop placement and crafting game. Players have a team of elves who must earn points by mining coal, tending to reindeer and producing gifts.
The game starts with players assigning the elves, who can be trained in different fields, such as mining and gift building. Allowing them to be a more efficient workforce.
The points in the game are called "Christmas Cookies" and are gained by building gifts, among other activities.
Gift assignments are collected from the mailroom, located on the board. Once players have their gift assignment, the elves can begin getting the gifts organized by collecting resources.
Gifts require different materials such as wood, plastic, metal, and fabric. For some gifts the plastic may be substituted for one of the other three, at a loss of Christmas cookies.
Another way to gain points and arguably one of the most important ways is tending to one of the eight reindeer. Over time these reindeer accumulate points if tended to, give the player a bonus which can be important for winning the game.
During the game, Santa himself will come around to "inspect" the workshop when this does happen bonus points are awarded to the leading team with the most gifts.
This family Christmas game successfully mixes a couple of different concepts from classic board games, video games, and a tiny sprinkle of worker placement. It plays with any number of players (up to 5), so you'll be sat around the table for hours playing Santa's Workshop, especially given that the game lasts around 40 minutes minimum.
Designed for a teenage audience in the first place, we found that with a little bit of explaining, even 8-year-old kids are able to join. Santa's Workshop is a game that requires some thought when playing, but you can also play it casually for fun.
Get ready to make hard decisions picking and building gifts and tending to the reindeer in this busiest time of the year at the North Pole!
PROS
Well thought out theme
High-quality components
Perfect for family holiday fun!
Begginer friendly
CONS
Component quality is mediocre
Timeline is a game series that has seen many iterations over the years since the original game in 1985.
Many of the versions have been granted awards such as the 2012 Årets Spel Best Adult Game Winner to the the original game.
The gameplay and rules of Timeline 3: Events are quite simple. The deck includes 55 historical events that contain a picture, some text and the year in which the event happened.
The idea is that players must create a timeline out of those cards, placing them in the correct chronological order.
If placed in the correct order, the tile stays on the table. If not, it is removed and the player must draw another one. The first player to gain an empty hand gets the victory.
The game represents a pretty simple yet fun race that can be enjoyed by up to 8 people in as little as 15 minutes. If you want to have an extended run with a larger deck, you can combine the Timeline 3: Events game with other games in the series. This makes it extremely flexible depending on how you want to play.
The game comes in a handy box making it quite portable to take with you. In case you are having your holidays away, this great little travel game could almost fit into your pocket.
Because the gameplay is simple, it's playable for anyone over the age of ten.
Timeline is essentially a simple educational history game that works for anyone over the age of ten. You're going to want to have some basic knowledge of the subject or have an interest in history to enjoy it. The fast-paced gameplay makes the learning part engaging and fun.
PROS
Fast-paced learning experience
Extremely portable
Simple rules
A better version of Trivial Pursuit
CONS
Must have some interest in history
Concept is a board game that has won many awards. From the 2014 Lys Grand Public winner to the 2014 Hra Roku Award winner, it's an immensely popular game.
It's a guessing game, with a twist where players, split into two groups, choose a term or a word the opponents need to guess. They will then give hints by placing the pieces, shaped like question marks and exclamation marks, on the icons located on the board.
The icons can be anything from a body part, moods, an action or a shape. For example, if someone was to pick "Boxing Day" they could place their pieces on the icon for holidays.
The player that guesses right gets 2 points along with their team. However, the winner is the one who has the most points at the end of the game, which lasts around 35-40 minutes to play.
This game is a perfect Christmas party game. Since players are able to choose their own words or phrases, the game truly has endless potential. In fact, you may think that a couple of colorful figures and a board of icons is dull – you are in for a surprise as we think it is one of the best fun board games for Christmas and other social gatherings.
Concept is best played with a group of 8 players but can be enjoyed with up to 12. And because it's only a board and a few pieces, it does not require much physical space to play.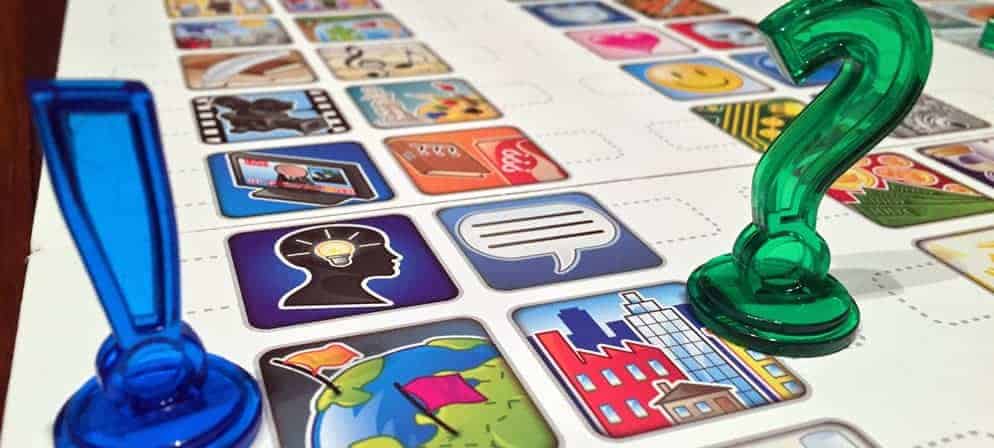 There are limited icons on the board, so some phrases and words could be impossible to guess unless they are generic. And given that there's no rule against using complex phrases and words, it can make the game challenging.
All in all, Concept is an excellent Christmas board game for larger groups. It is not specifically holiday themed, but has the right spirit for festive seasons. In addition, if you have previously enjoyed Charades, you are sure to find Concept to be one of the best board games this Christmas.
Alternatively, If you are looking to enjoy this game with your little ones, there is a kids version of the game – Concept Kids. It can be played with children age four and older.
PROS
Excellent replay value
Unique teamplay experience
Holiday party game with a unique twist
No down time
Wordsy is a newer board game that has only been out for a couple of years but already has made an impact on the market.
As a 2017 Golden Geek Best Party Game Nominee, the game has impressed many board game fans and has received a lot of praise from all over the world.
Players must look at the letters placed down and write down a word that includes as many letters as possible. The letters are always consonants, making it easier for the players.
After writing a word you have to flip a 30-second timer. In that time, the other players must then write their own words. The score is handed out based on the Column the letter is placed on the table. The rarer the word, the higher the score.
Starting with the fastest player, the scores are counted going clockwise around the table. If by chance the player scores more than the fastest person, they get bonus points.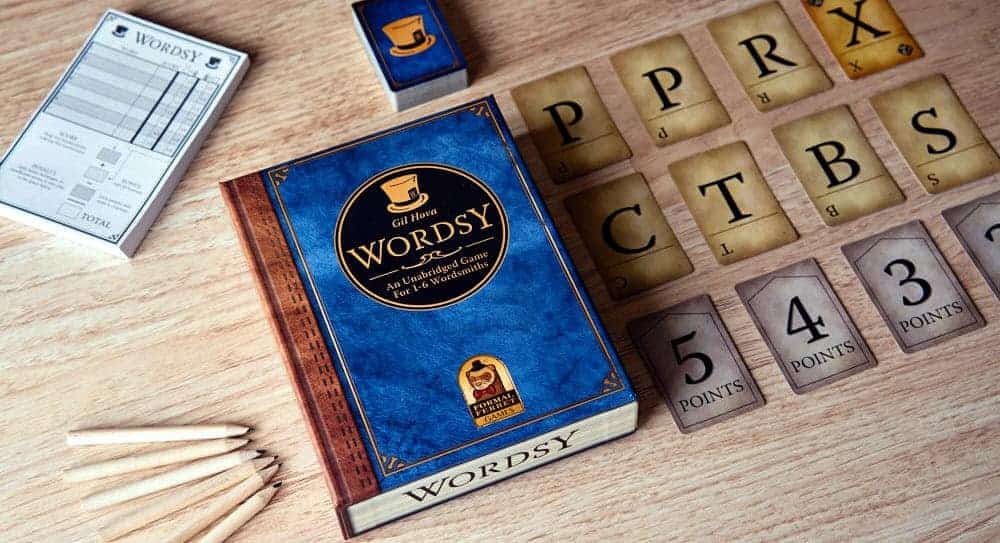 Once all of the scores are counted, the fastest player is able to claim a bonus. But only if the score is equal or higher than at least half of the other players.
The game ends after 7 rounds, making it a nice speedy game before or after your meal. At the end of which players count the points from their 5 best words. The player with the most points wins the game.
Because there is no board and you only get to use cards and paper, it can be played from almost anywhere and does not take up much space. Great for anything from a camping trip to a Christmas party.
PROS
Fast-paced rounds
Every game is different
Supports up to 6 players
CONS
Can become boring over time
In Codenames, players compete through clues given by "spymaster" players in an attempt to guess their team's "code name" which is located on the board.
The game begins with two teams, red and blue. Each team has one spymaster, while the others are field operatives.
25 tiles displaying a word or a codename, are laid out on the table in random order.
The cards represent red and blue agents, some bystanders and one assassin, which teams should avoid picking at all costs.
The spymasters are given a map card, which displays 25 colored squares, mirroring the layout of the tiles on the table. Taking turns, spymasters must guide their teams using verbal hints, consisting of one word and a number.
These hints help operatives to choose the tile that has their agent on it. The number given in the hint dictates how many guesses there are this round, while also relating to how many words on the table relate to the hint. Making it a bit harder to guess!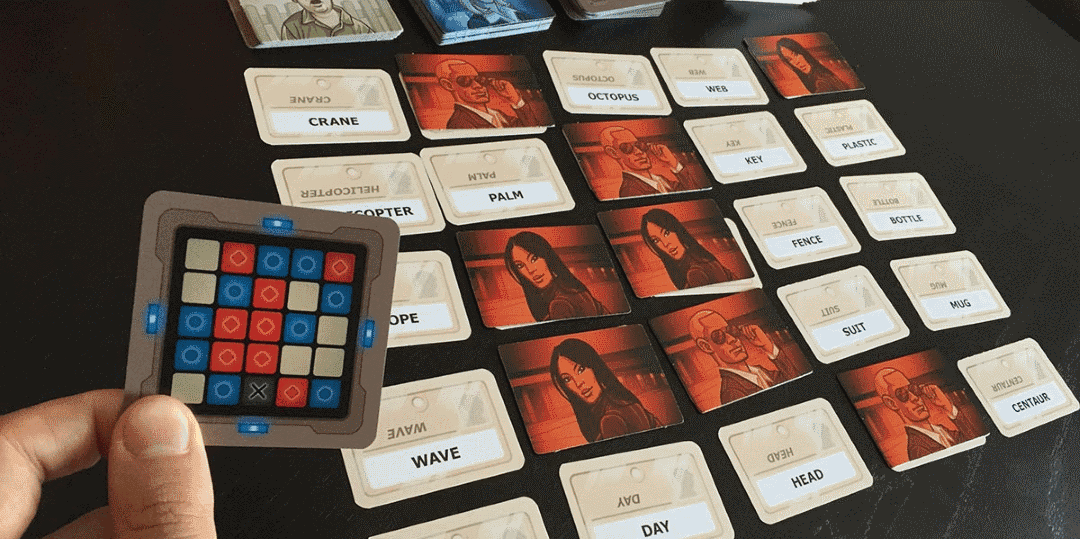 When the teams make their guesses, the spymaster reveals the identity of the tile (red, blue, bystander or assassin) as indicated on the map. The assassin tile ends the game immediately, while if a bystander or another team's codeword is pointed out, the turn ends immediately. The game ends when one of the teams discovers all codewords.
Codenames is uniquely fun, with each game taking around 15 minutes to complete when playing with the recommended 8 players. So long as you can read, you are sure to have some hilarious fun with this.
PROS
Ridiculously fun, yet challenging
Amazing player interaction
Quick to learn and goes for 15 minutes
A game for all ages
CONS
May feel repetitive after a number of games
Snow Tails is a modular board game that features a race to the finish.
Players are dog sledders, and they must race to the finish line by playing cards drawn from a shared deck.
Along the track, players must avoid obstacles such as trees and the edge of the track itself.
Players may choose how the racecourse is set out, as the board is modular and can be interchanged and crafted newly each game.
Each player has a piece to play on the board, that consists of three different actions. Dog 1 (left), Dog 2 (right) and brake.
Players get five cards from the shared deck at the start of the game, this is their playing hand. At the start of their turn, they may play 1 to 3 of these cards that correspond to an action (dog 1, 2, and break). The higher the value on the card, the stronger the pull depending on the action e.g. if the left value has a higher value than the right, the "sled" will swerve to the left.
Along the board, there are different conditions to adhere to and avoid. Some sections have speed limits, that if exceeded (when you push it too much) cause your sled to take damage. If you take 5 damage, your sled is destroyed and you are out of the race!
A bonus can be achieved if both dogs are given the same value when the hand is played. It allows the pawn to move further along the track, quicker.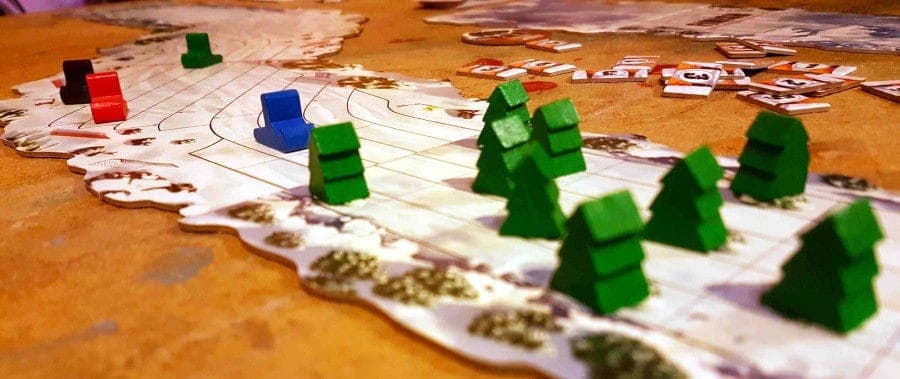 This game is one of a kind. With an interchangeable map/board and decent playtimes of 45-60 minutes per game, you'll find yourself addicted.
The game can be played by anyone over the age of 10, making it suitable for children and teens. It's quite easy to learn the rules too, giving the possibility to make your own extensions to the map if you please.
You really need a large table if you want to play this effectively unless you want an extremely small track. If you don't have one, it may be tricky to play this board game.
Snow Tails, however, is an excellent example of what a fun and engaging board game should be. With the ability to define your own experience through the placement of trees along the track, or the track itself. It'll have you glued to the board for hours, leaving you wanting more. 
PROS
Great with kids aged 10+
Build your own track
Huge replay value
Well balanced gameplay
CONS
Low interaction between players
Needs a large table
Home Alone, the movie, has been a Christmas cult classic for many years, and the board game hopes to deliver the same classic feel.
One player takes control of Kevin, the kid, whose job is to lay booby traps to stop the bad guys in their stride. On the other hand, the bad guys are trying to find valuables to steal in order to score loot points.
At the start of the game, each player is handed a tailored to the character deck. Since the deck is different, the gameplay asymmetric, but it feels quite balanced.
The kid starts with all of the valuable items, or, loot cards placed face down on the boards.
At the start of each round, players draw up to six cards from their retrospective decks. The kid needs to take three loot cards and after showing the players, hide them in one of three locations. These locations are usually entry points for the bandits to break into.
As Kevin, you'll need to set traps, these traps can be disarmed by the bad guys if they choose to discard a card from their hand. The bad guys can choose to retreat at any time if the risk is too big. Some traps also allow the kid to damage the burglars.
The game ends if the bad guys steal $2,000 or more worth of valuables and money. But Kevin, the kid, is also able to win if he manages to save enough valuable items or the bad guys get arrested.
Overall, this hilarious battle between the kid and the burglars has elements of luck, yet feels pretty controlled nevertheless. In fact, over time it becomes more personal, but never overly competitive which is ideal for the relaxed holiday feel.
Whether you're a board game expert or a newbie, Home Alone would work for you. Moreover, if you are a big fan of the movie or have little ones around you this holiday – we've got one of the top Christmas games for kids that is worth your serious consideration.
PROS
Great for all ages
Good component quality
Captures the feeling of the movie
Fun for parents and kids
CONS
Not very replayable
Christmas Lights: A Card Game thematically is trying to create an environment of the most wonderful time of the year – when you put up your Christmas lights.
Get ready to open up the boxes of beautiful goodies and decorations, untangle the lights, replace broken bulbs, and do up the tree.
The game challenges the players to compete in race of putting up the decorations on the tree – the first to complete it wins the game!
To complete your strands players need to sift through the light bulbs, arrange them in the right order and trade lights with other players.
The box and component artwork features a retro theme that looks and feels nice. Cards are extremely simple in their design and functionality and are split into four decks – Pattern, Bulb, Event and Character cards.
One of the characters is Santa and whoever draws it gets to go first! Pattern cards tell you the strings of lights you need to build. The Bulb cards are different colors and represent the sections of that string you need to put together which are one of three things – a working bulb, a broken bulb or a plug.
The trick of this game is that when you are dealt cards to your hand, you have to hold them with their backs facing you. That lets other players, but not you, see the actual cards in your hand and part of the challenge is to remember and memorize what is depicted as you play or exchange them with other players.
In essence, Christmas Lights is a set-collection, memory, information-trading game that is perfect as a filler Christmas game as it can take as little as 10 minutes to play. It is a great Xmas game to have around the kitchen table and will make a great addition to your family's December rotation.
PROS
Charming family friendly fun
Great player interaction
Vintage art box and components
Rules for 11 additional bonus games included in the box
CONS
Not for strategic depth seekers
12 Days is a holiday-themed family card game based around the classic "12 Days of Christmas" carol song that we all know and love.
Players, over the course of the game, attempt to end up with the best hand of cards that will help them win the game. They do this by gifting the bad ones to other players and keeping the good ones.
At the start of the game, each player is dealt 12 cards from the deck that actually look like tiles. This deck features verses from the famous song and also two bonus cards for Mr. and Mrs. Claus.
Each round players give a gift (or, a card) to the player on their left. Next, gifts are opened and new cards are bought to refill the hand. The player with the lowest scoring gift value wins the holiday card which are worth extra points towards winning the game at the end.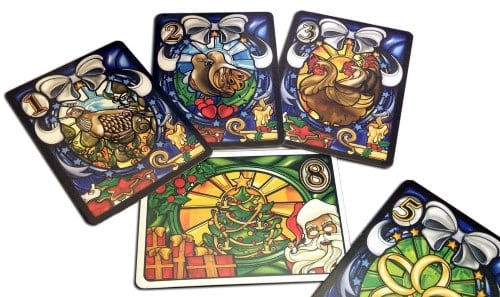 The Mr. and Mrs. Claus cards count as 0, and unless two players play them the same round, it's an automatic victory for that round. In the unlikely event of a tie, the next lowest card takes the round and wins the holiday card.
The winner is counted at the end of 12 rounds, which thematically represents 12 days. To win the game you must have the most holiday cards along with the most gift cards for each ranking at the end.
12 Days is a great take on classic games with a modern mix. A true game for all family, enjoyable for kids as young as 6. If carols and music is your thing, you are sure to find a fun, accessible and thematic delight with up to 5 players.
PROS
Pretty artwork
Easily portable
Quick to learn and play
CONS
Experienced players may find it too simple
Top 10 Games For This Christmas – Wrap Up
Xmas board games may be around everywhere this time of the year, but the good ones are far and few between. Hopefully, you now have a choice from our list of top 10 carefully considered board games we'd love you to try this festive season for some great friends or family fun.
We've listed tile-placing Christmas tree games, games with a touch of strategy, and games for all the family.
Ticket to Ride: Nordic Countries is a perfect fit for a small family as the game can only support three players. You'll find yourself lost, trying to build railways between cities for hours.
Codenames will put you and your friends head to head in a competitive game of wits. Playable from almost anywhere it's a sure pick if you're traveling this holiday season.
And finally, Snow Tails, which in itself is an experience to remember. It is a super competitive game that, however, won't leave a bitter taste in your mouth at the end.
Most games in this review are actually family-oriented, and if you are looking for specifically the top family board games of the year, check our other review. We are sure you'll find a tabletop game of style and mechanics you would love.
Thanks for sticking around and we finally hope that we have answered your question on "What are the best games to play at Christmas?" and buying an ideal game has just become easier. We also hope we have managed to show a number of family board games that are great alternatives to Trivial Pursuit, Monopoly, Charades, and Scrabble. The media tends to talk about the games that should be sold rather than the ones that are stunning to play and it is our duty to get the word out there and deliver the credit where it is due!
Lastly, feel free to leave your comments below and share with us your favorite Christmas-themed board games for families and friends! We'd love to know your thoughts on reading this article as well as your favorite holiday games that have not been mentioned in this review.
Frequently Asked Questions
How do you entertain your family at Christmas?
There are many ways to have fun this Xmas and picking one of the top Xmas board games is one way to do it. 
Just keep in mind the audience you'll have on that special day and get the game that works for it. Being a bit careful and thoughtful with your selection would allow you to yield better outcome. Above, you will recommendations for Christmas games to have some family fun, adult rivalry, and kids enjoyment.
Do Best Xmas Games Need To Be Christmas Themed?
No, we do not think so, yet it is highly subjective. We believe the best Xmas board games can be of any theme as long as they are nice to play, fit the occasion, atmosphere and the company you have.
At the end of the day, a good family board game is suited for the occasion, but if you want to push the limits then read our recommendation above to learn some of the top alternatives money can buy today.